Highlights of Our Management Program
-Competitive Management fees starting at 18%
-Individualized Marketing Programs for Owner's
-Professional photos and video tour
-Transparency in billing for all owner expenses and month end owner statements
-Prompt bookkeeping and disbursement of rent net income
-Owner login and access to bookings and information
-Preventative monthly maintenance program-no mark-ups on maintenance charges and no charges for minor calls
-An interactive marketing effort, using multiple vacation travel sites, social media and web- channels
-Email data base of Gulf Shores and Orange Beach visitor's
-Gulf Shores/Orange Beach Convention and Visitor's Center
-24/7 on-line booking and reservation site
-Hospitality from an experienced team
-No credit card processing fees passed along to our owners
-White glove cleaning service and property inspections
-Thorough inspections of your properties: arrival and departure inspections
-Prompt bookkeeping and disbursement of rent net income
Aqua Vacations prides ourselves in honesty and integrity. We treat our owner and guests as family, and will treat your investment as if it were our own. Customers and Owners are the one who define the success of any business and it is our goal to provide the highest quality service, while making the entire experience enjoyable. We take superior care of your home or condo with the highest level of appreciation.
We guarantee our services!
We look forward to having the opportunity to prove our commitment and value of Aqua Vacations.
We Use These High-Traffic Marketing Networks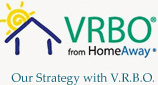 We use V.R.B.O to market our condo's and beach homes in our management program. V.R.B.O has become a powerful tool in marketing vacation rental property.
We cover the cost of V.R.B.O We set up your V.R.B.O page. Promptly respond to email inquires Up to date property information and calendar. We answer every call and make the reservations

YouTube has become a powerful visual marketing tool in marketing vacation rental property.
We set up your YouTube video with beautiful photo's of your property and complex amenities to tropical and soothing music. Up to date property information and details of your property.
Gulf Shores and Orange Beach Tourism.