6 Great Places to Kayak in Gulf Shores and Orange Beach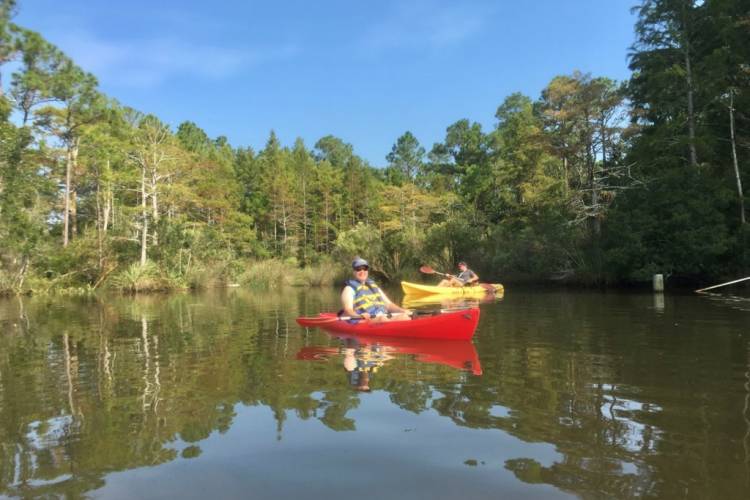 From watersports to pleasure boating, there are so many ways to experience the beautiful waterways of Gulf Shores and Orange Beach. If you're looking for peaceful beauty and thrilling adventure, kayaking can offer the best of both worlds. With an abundance of beautiful bays, scenic bayous, inland lakes and lush lagoons, the area is a true paradise for paddlers looking to get a personal look at life on the Gulf Coast.
Coastal Alabama Back Bay Blueway
Some of the best places for paddling in the area can be found along the Coastal Alabama Back Bay Blueway. The route is made of four distinct trails with 21 easy launch sites, taking kayakers on a scenic adventure through the diverse waterways of Gulf Shores, Orange Beach, and Fort Morgan. Along the way, you'll explore all types of vibrant coastal landscapes, from dense cypress swamps to freshwater lakes to marshlands and more.
Fort Morgan Trail winds through the lush landscapes of Mobile Bay, Bon Secour Bay, and the Bon Secour National Wildlife Refuge. You can catch glimpses of the Fort Morgan Historic Site and go on the hunt for dolphins, migratory birds and other local wildlife.
Little Lagoon Trail includes 10 miles of calm, shallow marshland where kayak anglers will find excellent fishing holes for redfish, flounder and trout. It's also a hot spot for watching predatory birds like heron and pelican hunt for their next meal.
Orange Beach Trail is the most diverse kayak trail in the area, offering explorers the chance to paddle through coves, bays, inlets and bayous. Popular spots include Wolf Bay, Graham Creek, Terry Cove, and Robinson and Bird Islands, each offering a unique view of life on the Gulf Coast.
Gulf State Park Trail introduces kayakers to seven coastal ecosystems around Lake Shelby and Middle Lake. As you explore the freshwater environments, you'll encounter varied flora and fauna and have many opportunities to stop and rest on beautiful sandy shores. 
Here, kayakers can make waves in the Gulf before meandering around miles of scenic freshwater, all in one day. Lake Shelby and Middle Lake offer more than 900 acres of freshwater ecosystems to explore, and visitors can rent kayaks and paddleboards easily on-site (but feel free to bring your own.) If you're lucky, you may spot nesting ospreys or even the occasional alligator basking on the shore.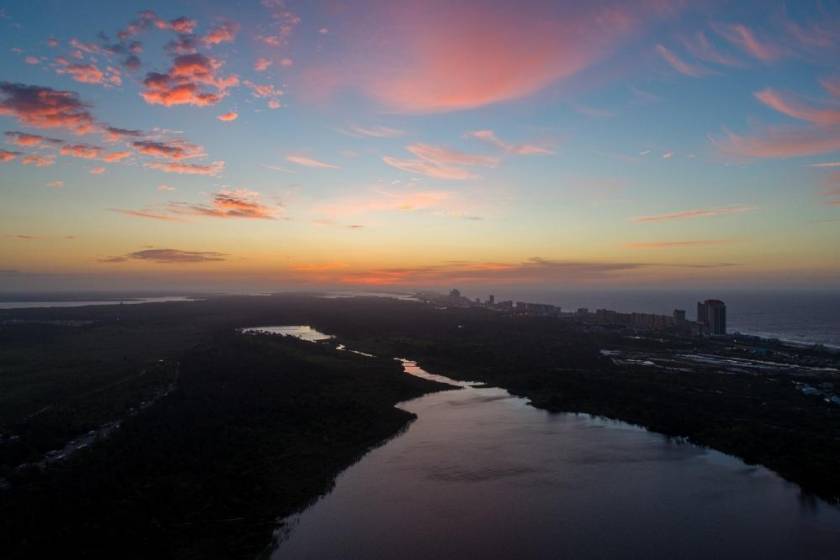 Paddlers can explore this protected wildlife sanctuary from Little Lagoon via the kayak launch on Jeff Friend Trail. From here, you can navigate the Intracoastal Waterway, explore Oyster Bay or paddle down Bon Secour River to see sea turtles, nesting birds, basking alligators and more.
Cotton Bayou
Cotton Bayou offers calm waters for kayaking and paddleboarding, but it's also a popular spot for boaters and may be challenging for first-timers. It's a common spot for dolphin sightings and has several shallow islands where you can beach your kayak and soak up the sunshine. There are also several waterfront restaurants and other points of interest to keep you entertained all day long. Sky Surfer Parasailing offers kayak rentals from a spacious floating dock nearby, providing easy paddling access to the entire area.
Book Your Gulf Shores or Orange Beach Vacation with Aqua Vacation Rentals
No matter where you plan to launch on the Alabama Gulf Coast, we can help you find a vacation property to keep you in comfort right near the water. Our luxury condos and private homes on the beach offer world-class amenities in prime locations, while our helpful staff can help you enjoy a hassle-free trip. When you're done kayaking, you can even enjoy complimentary admission to some other amazing attractions in the area!